Numerical Control Foam Cutting Machine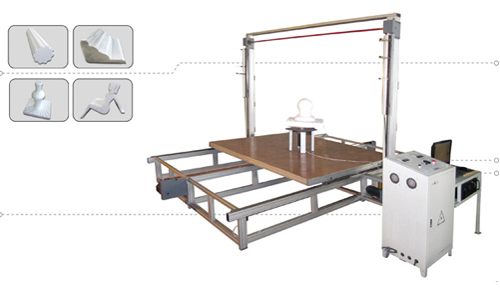 Product Introduction
• The main frame of the machine is made of aluminum alloy profile connected by special joints with stable function and performance, reasonable structure, high precision, easy and convenient operation which can save time, strength and raw material; It can cut many kinds of two-dimensional and rotational parts, which is mainly used to cut rotational molds with more curves such as European components, T slot board, column, pellet, etc..
• With full automatic industrial control system, the machine adopts top class motion control board at home with quick response, strong anti-interference ability, high control precision, stable control and operation, favorable self-diagnosis and self-adaptive ability, etc. which can work all day for long term.
• It can draw all kinds of figures with CAD/CAM on computer and cut directly, or can cut after the cutting file is run from U-disc.
• With convenient operating interface, the machine can display the parts to be cut, follow the cutting path as well as their respective status such as limits, alarm, operation conditions of each axis, etc..
• With high strength and stability mechanical design, the machine can work smoothly with numerical control system and there is no need to adjust.
• The machine has double track motion design with high precision, which is durable.
• It is equipped with stepper motor which can be controlled together with curves' acceleration-deceleration by software except for stable work, free speed regulation, high control precision, etc. so as to meet the requirements for cutting speed and precision of circle. 10 heating wires can be respectively installed on numerical control and fixed brackets so that the board can be cut and formed once.
• The machine allows broken wire changing during cutting.
• It allows designing all kinds of two-dimensional figures so as to satisfy market requirements.
Technical Parameter

---